Choose Showtime to Buy Tickets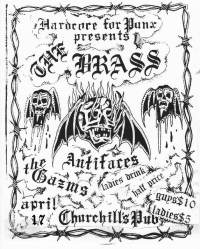 Hardcore for Punx and Dollhouse presents: The Brass (on tour), Antifaces, The Gazms, Golden Oriole (Norway), Flesh Narc (Denton TX). $10 for guys, $5 for dolls, 1/2 off drinks for dolls
Ages: 18+ Ages
This Event Has Ended
Hardcore for Punx and Dollhouse presents:
1:15 Golden Oriole (Norway)
11:45 Flesh Narc (Denton TX)
Feed your head brings you a weekly brain meal.
((()))At the green room ))(((((
Opulence Drag Show Birthday Celebration
fuck RSD buy the touring band's merch!
$5 dolls and drinks half off
>>>>no cover after 1am<<<<
1am -3am LATE NIGHT HAPPY HOUR FOR ALL!!!!!