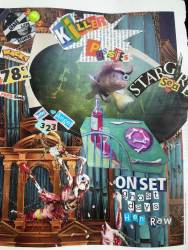 305 FEST DAY 1
Time: 9:00pm Day: Wednesday Doors: 8:00pm Ages: 18+ Ages
This Event Has Ended
Tired of seeing the same 'ol bands? Trust Fall into #305Fest week with all these NEW BANDS taking the MAIN STAGE at 9pm sharp !
Starting with :
GHOST DAYS
Onset
Hen Raw
Stargirl Sea
Baby Angel 323
& Killer Pussies ! ! !
+ DJ Dirtbag spinning in between acts ! 

+VIDIUM MIAMI has this show running on the FLOOR STAGE-- > 305 Fest $hitShow Part 2 = 6 bands for .78 ¢ each (roughly $5) + another 5 bands and a DJ for FREE ! with 
YAM YAM
MONTANE
PREPUCIO GALACTICO
BITTERLAKE
ABRAHAM CINCO

M.I.A. Brewing Co. beer on sale for $3.05 ! 

Screening the MOST BIZARRE episodes of Caso Cerrado ! ! ! !

Crass Lips Records is excited not only to bring you new live bands, but also new TAPES and hand-crafted merch. from local bands & beyond! Our new Compilation IV will be available & incidentally we will be releasing Mr. California's CLASSIC debut album on cassette for the VERY 1ST TIME on this day !! With 23 minutes worth of material that has NEVER been released online before!! --> https://www.youtube.com/watch?v=VXR3rfUVwt0

Lastly, we are also doing a SUPPLIES DRIVE for Cuba as we are visiting family and friends there the next weekend. PLZ remember to give if you have extra: band-aids, anti-biotics, menstrual products, wipes, medicine of ANY kind, new under garments, socks, MUSIC EQUIPMENT and they'd also appreciate any extra food of any kind. 
Whatever is surplus will be shipped to the survivors of the migrant caravan on the Mexican border.