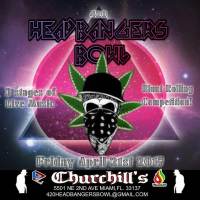 420 Headbanger's Bowl
Time: 9:00pm Day: Friday Doors: 8:00pm Ages: 18+ Ages
420 HEADBANGERS BOWL 
3 stages of live music. $100 blunt rolling contest and more.
Friday April 21st 2017 at The World Famous Churchill's • 9pm til 3am. 18&up. 

To be a part of this evemt please email a brief bio, photo of your band, website, your contact info and an mp3 or link to a video of your music to: 420HEADBANGERSBOWL@GMAIL.COM • Hot line 305.303.3976. 
An Official Qool Show.